Losing your smile isn't simply a cosmetic concern; it's also a health issue that may have a big impact on your life.
A conventional implant may be a viable option, but the treatment's recovery time and price are not for everyone. Our clinic provides one of the greatest dental implant procedures accessible right now: the All-on-4, a technique for replacing part or all teeth with minimum invasion, fast recovery, and lower cost.
All-on-4 dental implants help you regain your health
Missing teeth is both an aesthetic and a health issue. You will see changes in facial features, as the chin protrudes, lips lose volume, the corners of the mouth droop, and facial muscles lose tone. The tongue also slides back, reducing the size of the oral cavity. Speech and hearing are affected by these conditions since they may damage the Eustachian tube, resulting in hearing loss.
Lip harmony is broken when the upper jaw teeth are lost, flattening the mouth and hardening the expression as the cheeks fall. Furthermore, missing the top teeth causes issues with phonetics since words cannot be spoken correctly, and the chewing function can be severely harmed!
This is the reason why dental implants are more than just an aesthetic issue. They become a requirement for those who are missing teeth so their health and well-being are not at risk. The All-on-4 dental implants are the most helpful solution for this since they are an innovative procedure for rebuilding a whole arch of teeth with less invasion and fewer implants.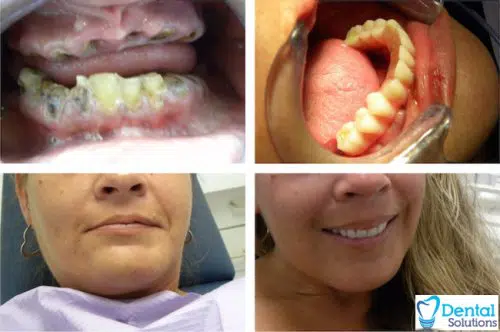 In comparison with other treatments, this therapy allows patients to replace some or all of their teeth while also considerably improving their dental health. The recuperation period is quicker, and the aftercare is quite simple. This procedure is also less expensive because it only requires four dental implants.
What exactly is the All-on-4 procedure?
The All-on-4 procedure focus on replacing lost teeth with a complete dental fixed bridge supported only by four titanium implants put into the jawbone, where bone density is greater, guaranteeing osseointegration and complete retention of the prosthesis.
The main difference between individual dental implants and this approach is that it only takes four implants to support the complete bridge, which saves money, eliminates the need for bone grafts in the jaws, and is faster and more efficient. With the All-on-4 treatment, you can expect instant benefits and a faster recovery time. 98% of patients who had this treatment say they are fully satisfied with the outcomes and that it has improved their life quality.

All-on-4 treatment benefits
Compared to conventional implants, this dental procedure requires less time. Conventional treatment can last months and includes a lengthy recovery process. Instead, the All on Four procedure uses the residual jawbone to avoid the need for bone graft surgery, which cuts down on the time it takes to restore your smile and makes the healing process easier.
Because only four dental implants are placed, the All-on-4 technique is less expensive than individual implants for most patients who require multiple tooth replacements. Traditional implants also require a lot of maintenance in the long run, resulting in a higher total cost.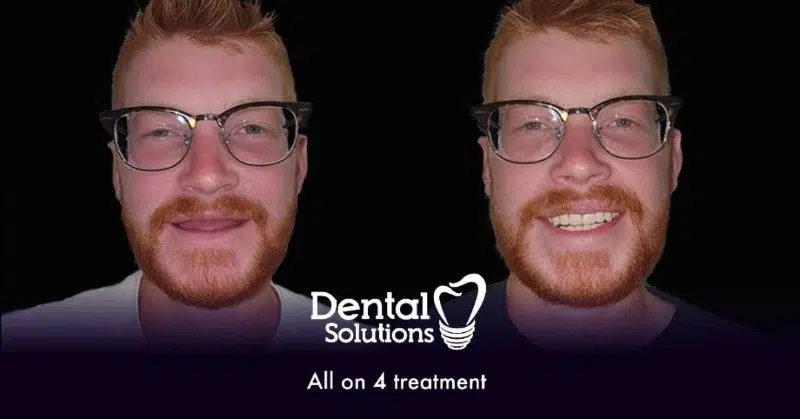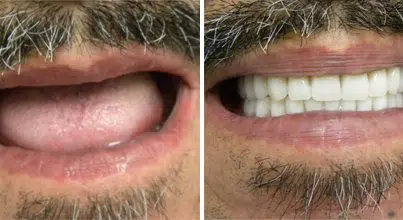 In comparison with other treatments, recovery is faster and simpler with this minimally invasive surgical technique. After the implants have been fixed, a temporary prosthesis can be put on, which will be replaced with a permanent one at the next appointment. This way, you can quickly see the aesthetic and practical effects on the same day.
If it is compared with removable dentures, this dental implant method is more stable and does not require any extra maintenance or adhesive. You will not feel as though you have an additional piece in your mouth; rather, it will feel natural and pleasant.
All-On-Four implants prevent bone loss, allowing patients to keep their facial features and avoid health conditions associated with chewing problems. Also, the cosmetic outcome is unrivaled: your teeth will look absolutely natural!
You will feel better about your health and life quality after this treatment, and you will be able to eat all of your favorite foods and smile with confidence once more.
Some reviews of our All-on-4 dental implants in Tijuana, Mexico​
"Everybody was so nice. Everything went smooth I loved it. I should've never waited so long."​
Katie
"I'm very happy with the results. Dental Solutions has definitely exceeded my expectations. If anyone is skeptical please make that first phone call."​
Liza
Is the All-on-4 technique the best option for you? 
When teeth are lost and not replaced with implants right away, there is often a considerable loss of bone in the upper or lower jaw due to the lack of stimulation from dental pressure. After the first year following tooth loss, the bone begins to resorb itself, up to 25%.
This implies that in order to place a dental implant, the patient must undergo a surgical procedure to graft bone tissue from other bones. The recovery time for this surgery can go from 3 to 6 months, and only after that can a dental implant procedure be performed. When it comes to one or two pieces, bone grafting is not an issue, but when it comes to replacing a significant number of teeth or the entire dentition, it can be a lengthy and costly operation.
Since just four titanium implants are put into the jaw (the region with higher bone density) to fit a full dental bridge to replace all lost teeth, the All on Four dental implants eliminate the need for a bone transplant. As a result, the patient receives quick and safe therapy.
Our stellar All-on-4 treatment in Tijuana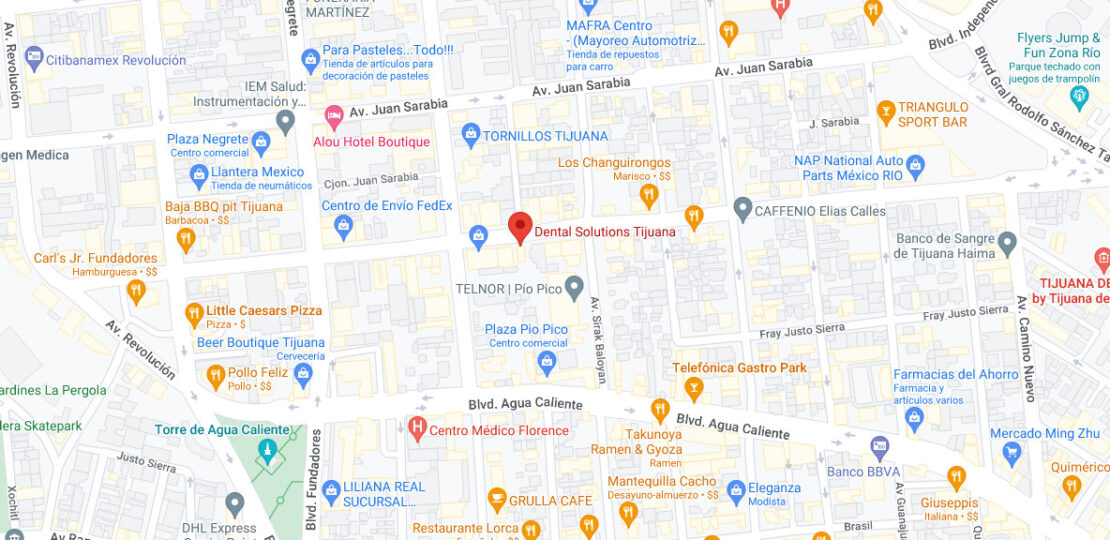 Our dental clinic is located in Tijuana, Baja California, a border town. We are more than a professional center for health and cosmetic dentistry; we are one huge family working toward a shared goal: the well-being and high quality of life for all of our patients. We are members of the American Dental Association, and we have a team of top-notch dentists that are ready to provide you with the greatest care and a fresh smile.
We have some of the most skilled and qualified dentists for this treatment. She has dedicated her whole professional life to this dental therapy, learning directly from Nobel Biocare, the company that invented it. She has studied in Portugal, Spain, Korea, and Harvard, and in 2012, Nobel Biocare named her the regional professional with the most effective All on four treatments.
We not only have the greatest caring and prepared dentists, but we also use the same high-quality materials, technology, and tools as the best dental clinics in the US and Europe. We have a CT scan at our clinic to offer accurate information to our patients regarding their current dental health, making us one of the few clinics in Tijuana with this technology.
All of this is available at the most competitive Mexican market pricing, which is a fraction of the cost in the United States and even Canada.
Why should you go to Dental Solutions in Tijuana, Mexico?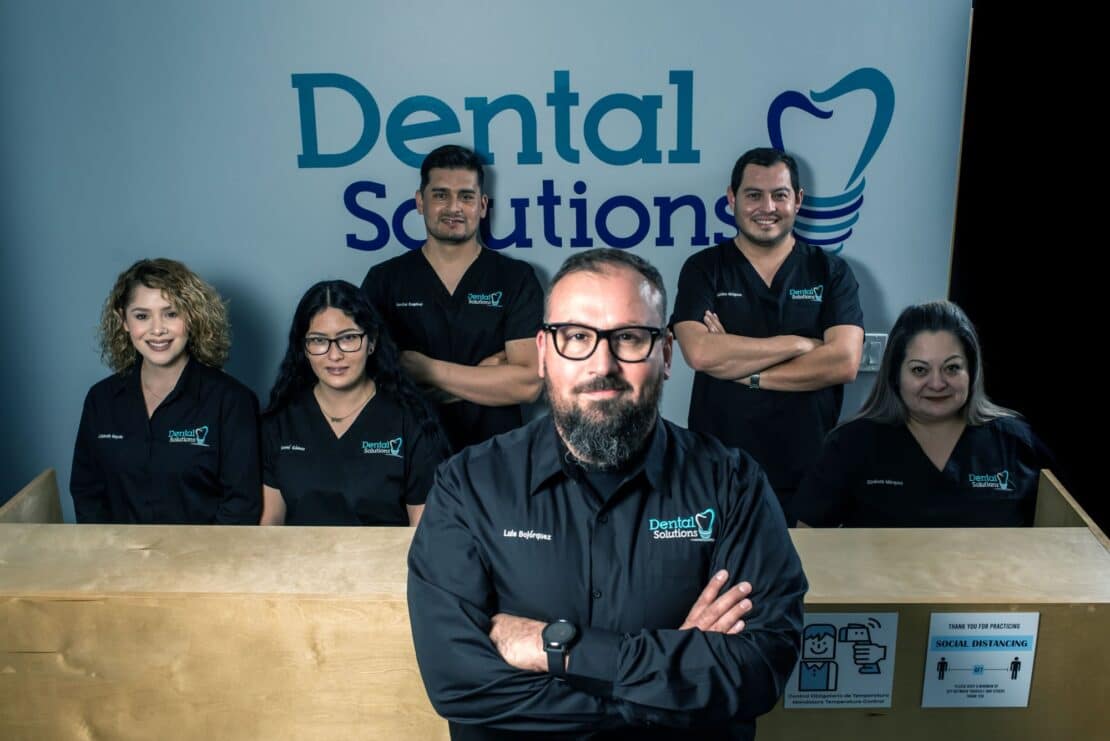 Dental treatment in the United States and Canada has an elevated cost. Our Tijuana implant dentistry facility provides low-cost treatments while maintaining the same high-quality technology and materials, ensuring that each surgery has the highest safety standards. This is why patients from those countries visit our facility on a daily basis to receive the most popular and in-demand procedures for a small fraction of the cost they would have spent in the United States.
You also don't have to be concerned if you don't speak Spanish. We can help you in any scenario because our dental team and staff are bilingual and proficient in English. Our clinic is near the border and quick to find, so you won't have to go far to have your treatment.
How much do All-on-4 implants cost in Tijuana? 
This therapy is applied to each arch separately. So you'll need two treatments for a full mouth implant, one for the top whole arch and one for the bottom.
The all-on-4 procedure is divided into two stages: after the CT scan, the implants are implanted and a temporary denture is fitted for 6-8 months in the first one. After that has healed completely, the second step begins: the implants become permanently attached to the jaw bone, allowing the permanent fixed denture to be installed.
Implant Procedures
| | | | | | | | | |
| --- | --- | --- | --- | --- | --- | --- | --- | --- |
| Dental Implant | $850 | | | | | | | |
| Implant Crown + Abutment | $495 | | | | | | | |
| Sinus Lift | $700-$1000 | | | | | | | |
| Bone Graft | $400-600 | | | | | | | |
| Snap On Denture (2 Implants) | $3,250 | | | | | | | |
| Snap On Denture (3 Implants) | $3,999 | | | | | | | |
| All on 4 treatment | $8,900 | | | | | | | |
| All on 6 treatment | $11,100 | | | | | | | |
| All on 8 treatment | $13,300 | | | | | | | |
CONTACT US FOR A FREE QUOTE​
Please note that this is not an actual appointment, but a request for one.
We will contact you for a confirmation shortly after. Thank you!