All on 4 in Tijuana Mexico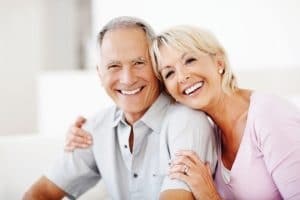 Replace a whole arch of teeth with innovative All-on-4 dental implants. If you've lost your teeth or want to replace ill-fitting dentures for comfortable, stable and natural-looking teeth then this revolutionary technique may be just what you're looking for. It can be carried out in a single visit on patients who have previously lost their teeth and are currently wearing dentures. For patients who are having extractions it will require two visits, around 6 months' apart, for the procedure to be completed, allowing time for the bone and soft tissue to heal after the extractions.
All-on-4s are 'four' dental implants supporting 'all' the teeth in either the upper or lower arch. A dental implant is a metal 'screw' that is placed into the jawbone. Over time, the implant fuses with the bone, acting like a tooth root, and providing a solid and stable support for a crown 'false tooth' to be attached.
ALL ON 4 TIJUANA Timeline

The First Day: CT Scan, evaluation and final estimate. If you approve the suggested treatment, I can start with extraction and surgery to put the implants in place and make Impressions.
The Second Day: Wax test
The Third Day: Fix test 
The Fourth Day: Final Test
The Fifth Day: Time to put the denture in place
The Sixth Day: In case you need some fix.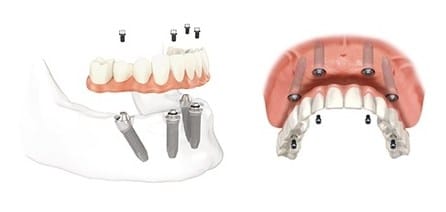 All-On-6  is done using 6 vertical implants, 3 on each side of the arch to provide stability.
The treatment requires 1 – 3 visits.
Two implants are placed at the front of the jaw and two near the back, at a 45 degree angle.
A temporary bridge which is a non-removable tooth will be attached to the implants when these have fully fused to the jaw bone. At this point, your jaw will be strong enough to hold the permanent bridge
When your implants have first been placed and you have a temporary bridge, you will be advised to eat soft food for a while and certainly not anything chewy or hard that could interfere with the process.
Apart from maintaining a fastidious oral hygiene regimen with careful brushing, flossing, and regular check-ups at the dentist, you shouldn't have to do anything different. Provided you look after your new teeth, they should give you years of good service and will feel, look and act just like your own teeth.
ALL ON 4 TIJUANA – BEFORE – AFTER

What are the costs of All-on-4s around the world?
In the United States, All-on-4s cost, on average, $25,000
At a Mexico dentist, they cost US $8,900
Patient Testimonial
Implant Procedures
| | | | | | | | | |
| --- | --- | --- | --- | --- | --- | --- | --- | --- |
| Dental Implant | $850 | | | | | | | |
| Implant Crown + Abutment | $495 | | | | | | | |
| Sinus Lift | $700-$1000 | | | | | | | |
| Bone Graft | $400-600 | | | | | | | |
| Snap On Denture (2 Implants) | $3,250 | | | | | | | |
| Snap On Denture (3 Implants) | $3,999 | | | | | | | |
| All on 4 treatment | $8,900 | | | | | | | |
| All on 6 treatment | $11,100 | | | | | | | |
| All on 8 treatment | $13,300 | | | | | | | |