Dental care is a crucial part of your general health, and missing teeth can have a negative impact on your health and self-esteem. To restore your smile and prevent future damage, you need an appropriate dental treatment. Dental implants are a simple and effective approach to replace missing teeth. And we can help you restore and repair your smile with dental implants.
This process can help you enhance your health and well-being because it is steady, long-lasting, safe, and comfortable.
What exactly are dental implants? How do they work?
Dental implants are the most aesthetically pleasing and long-lasting method of replacing lost teeth. Many patients choose this treatment since it is a permanent solution that offers an almost similar look to natural teeth. It has dramatically transformed the industry of implant dentistry in the previous quarter-century.
Dental implants are made of titanium, which is a lightweight, robust, and biocompatible material that does not cause allergic reactions. These pieces support crowns that are going to replace the lost tooth, and once it is healed, it offers an appearance and feeling nearly identical to real teeth. Crowns are made of a variety of materials, including acrylic, zirconia, porcelain, and composite.
An implant can be used for many dental operations, including crown placement on a single tooth, dental bridges, and full-mouth restoration with dentures.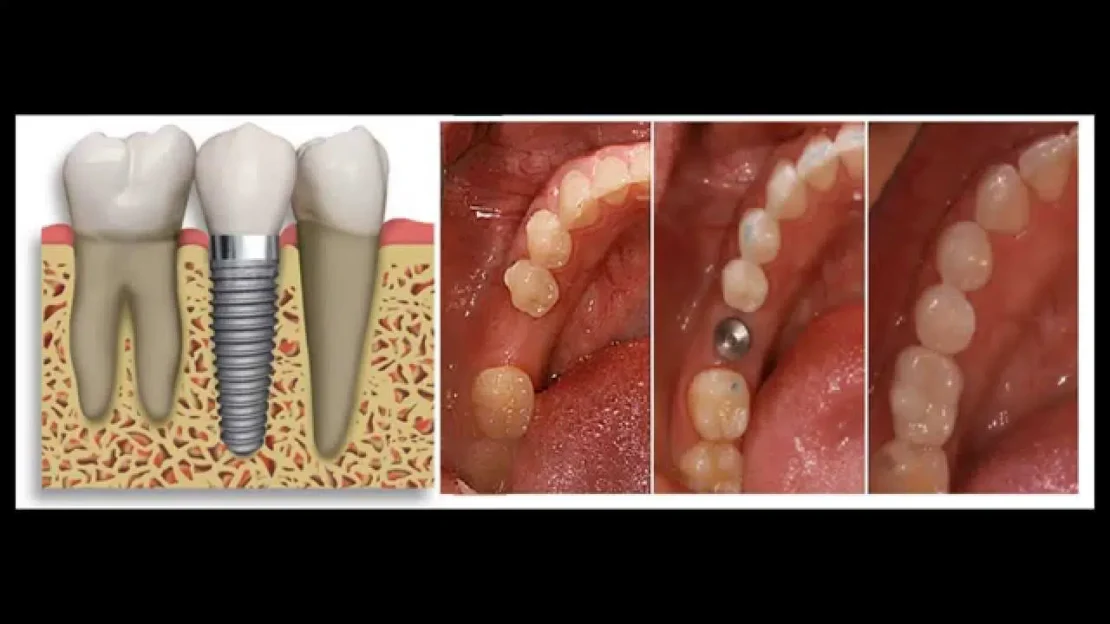 What is the process to place a dental implant?
Dental implants are placed through a surgical procedure by putting a metal component into the jawbone, below the gum line. It is important that the materials are of the greatest quality to guarantee the success of the treatment. 
In Dental Solutions, only the best titanium dental implants are used. It's a high-quality material that ensures the implant's osseointegration, it is strong and long-lasting.
Types of procedures that can be done with dental implants
Implants can be used for a variety of dental procedures. A single implant, for example, can be used to restore a single tooth. The oral surgeon is going to work just in that location, and just one metal piece will be placed. After that, a dental crown is put on, and the gap between the teeth is closed. Once the treatment is done, your smile is restored with an implant that looks and feels like your natural teeth. 
Dental bridges are another popular procedure that may be used to replace several teeth at once. When the gap is larger, an implant-supported bridge can be used. The dentist can assess the current state of the teeth and place two implants during this treatment. The gap is going to be filled with acrylic teeth in the center which will be supported by them. This simple procedure can quickly replace lost teeth.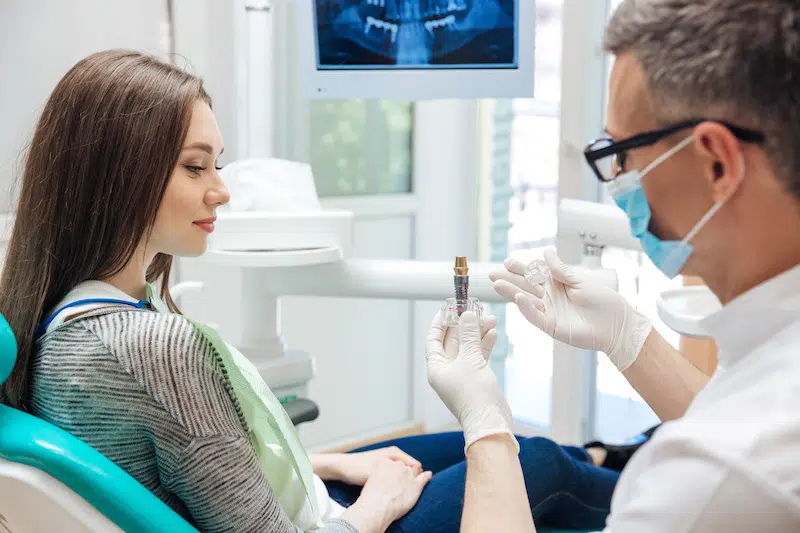 When a full-mouth restoration or a denture is required, the All-on-4 treatment can be employed. This is a fairly common treatment in which only four implants are used to support a full arch. It lasts a long time, is stable, and feels absolutely natural. This treatment has many benefits like being less intrusive by removing the need for a bone graft, it takes less time, and it has a lower cost than other alternatives.
What are the benefits of dental implants?
Dental implants have a number of benefits. Many individuals find removable dental prostheses annoying and uncomfortable, but implants are fully safe, comfortable, and feel like real teeth. A detachable dental prosthesis might irritate the mouth, slide when biting, and requires the use of adhesives and extra care. Dental implants, on the other hand, are permanent, so it is not necessary for the patient to create different routines to take care of them, only regular brushing. 
One of the main benefits is that it avoids bone resorption or bone recession, which is common with removable dental prostheses. Furthermore, dental implants protect the natural tissue of teeth, preventing neighboring teeth from being worn down by a prosthesis. Implants can help you keep not just your smile, but also your chewing function, facial features, natural tissue, and overall health.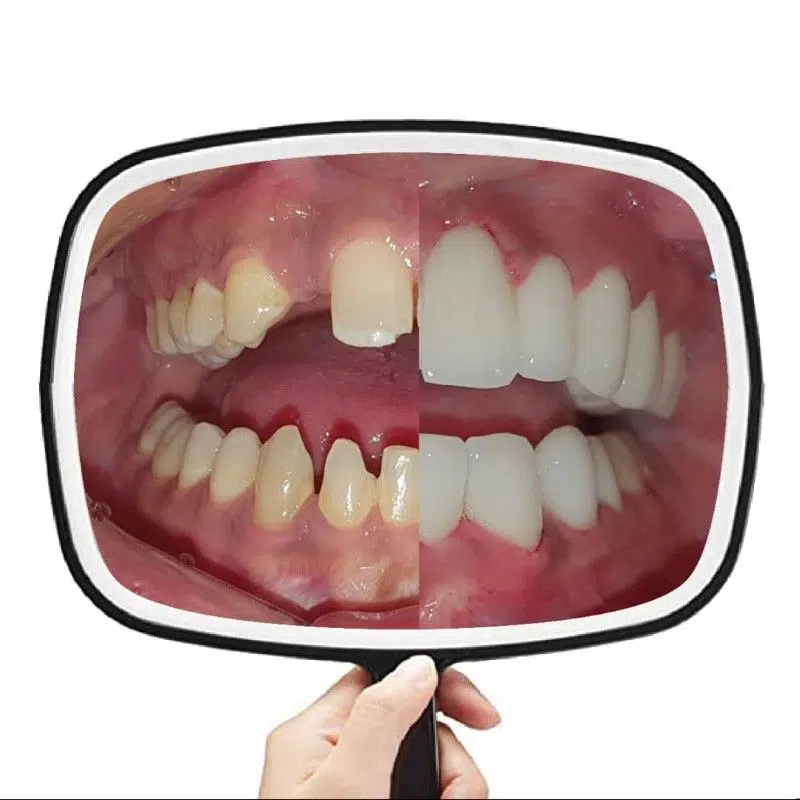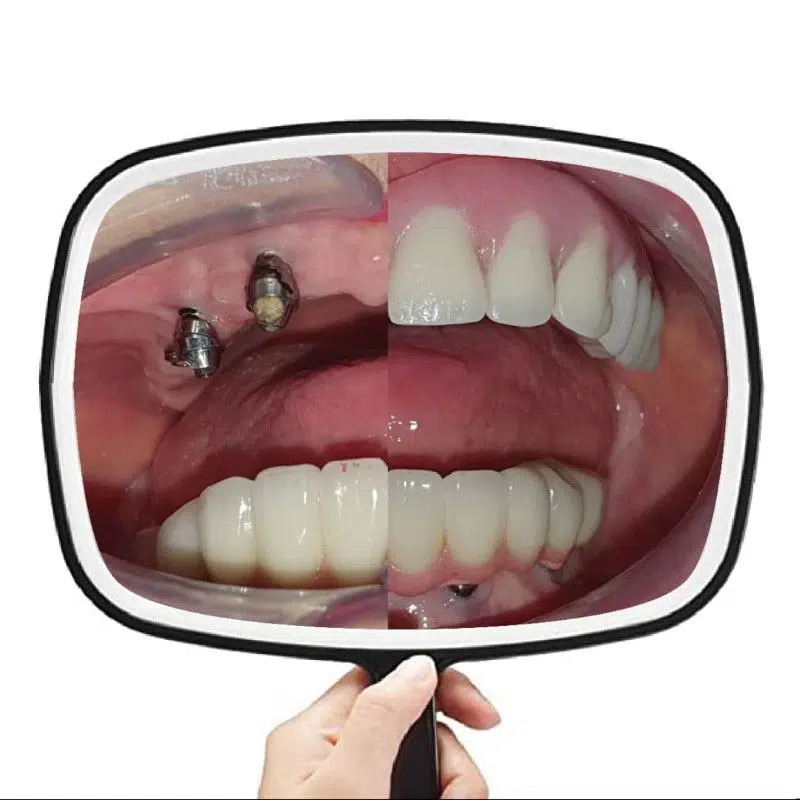 Another significant advantage is that implants offer a long-term solution for restoring lost teeth with a perfectly natural appearance. You can't tell the difference between a natural tooth and a Dental Solutions implant at first sight. With natural-looking implants, you can ensure that if you require future dental work, you will have optimal oral and general health at all times.
Dental implants outlast a dental prosthetic and are more efficient when eating and speaking. You may regain your smile and your usual lifestyle with dental implant treatment.
Some reviews of our Dental implants in Tijuana, Mexico​
"There's a lot of conversation about how dentists in Mexico are less expensive, and not enough about how good they are. They're trully astounding. These dentists and staff are the best I've ever experiencied."
Michael, Washington
Is this treatment right for you?
You are a candidate for dental implants if you have lost one or more teeth and want to replace them permanently.
However, it's critical that you're in excellent health and don't have any condition that might prevent the implants from healing and integrating properly. Untreated diabetes, pregnancy, cancer, immunological disorders, uncontrolled periodontal disease, low bone density, and smoking are all conditions that might influence your candidacy since all of these can lead to implant failure.
Our dentists will determine if you are a good candidate for dental implants and will recommend the best therapy to replace your teeth. You will have an initial consultation at Dental Solutions where the dentist is going to analyze your current condition and walk you through the dental treatments that are ideal for you.
Preparation for your dental implant procedure
Even if it is only for a single missing tooth, if you are eligible for implant treatment, you must take extra care of your entire health. Some conditions can make surgery more difficult and your recovery can take more time than necessary.
The best recommendation is to keep a balanced diet and avoid smoking in the weeks leading up to your appointment. At your initial appointment, our dentists will tell you if you require special care and they will give you detailed indications to prepare before surgery. This will guarantee a successful implant procedure.
If you require or have already had a bone transplant, our Doctors will also help you with detailed suggestions and indications for aftercare that are particular to your situation.
Visit our Tijuana dental clinic
If you are considering a trip to Tijuana for the first time, Dental Solutions can help you and answer all of your questions. Tijuana is a Mexican border town where you can find many dental clinics, providing high-quality treatments to both national and international patients, particularly those from the United States and Canada.
The biggest advantage is that Mexican treatments have a lower cost compared with those countries, therefore most patients choose to travel here and have the same dental treatment, but spend less money. Because clinics are close to the border, traveling and medical tourism in the area is straightforward. Dental care is vital, but so is keeping your finances in check, so here is the perfect spot to do both.
Why should you visit Dental Solutions in Tijuana, Mexico?
You will discover the greatest dentists in the region in our Tijuana dental clinic, ready to offer you high-quality work.
We have not only the greatest professionals, but we also have the best high-quality products and equipment. We can give you flawless results in every treatment thanks to state-of-the-art technology, and the best thing is that you will always be in a safe, comfortable, and trustworthy atmosphere.
Don't worry if you don't speak Spanish. Communication will not be an issue because our dentists and staff are completely bilingual. We are available to answer any of your concerns, offer assistance, and provide support during the treatment process.
Tijuana dental implant surgery in Dental Solutions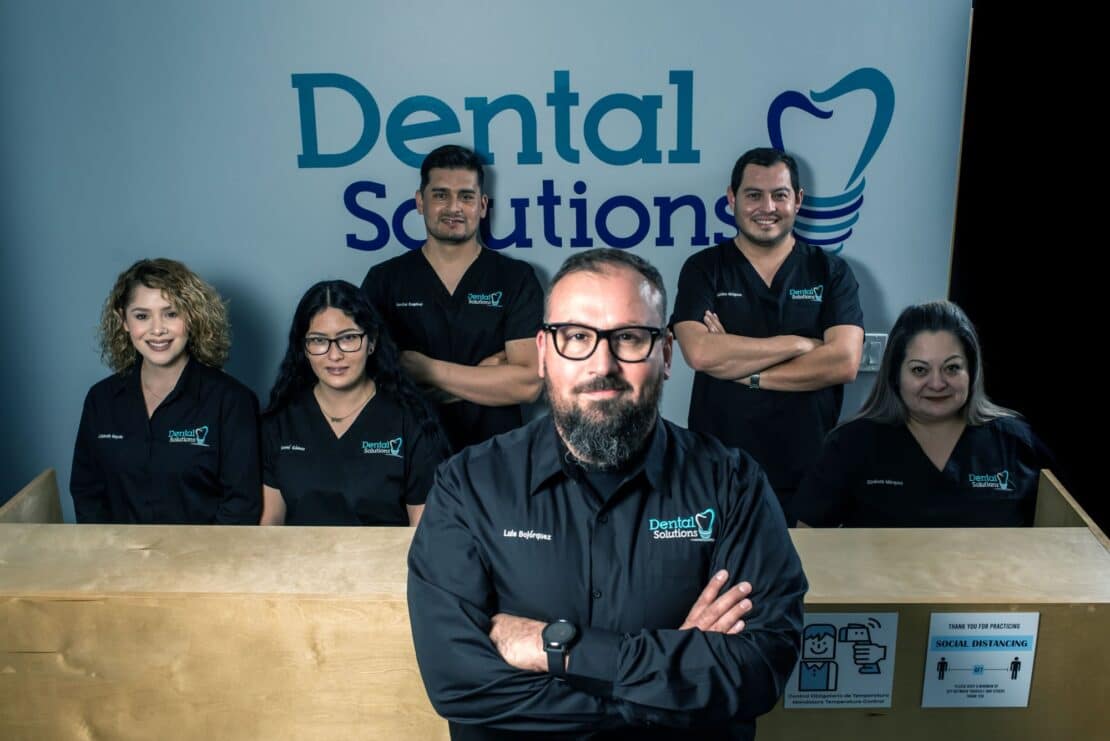 Our entire team at Dental Solutions Tijuana has the skills and experience to make the right diagnosis and offer you the best treatment for your specific needs. We provide ongoing support and aftercare guidance to ensure the implants' longevity. You become a member of our extended family at Dental Solutions, and we genuinely care about your well-being.
We habve the greatest dental professionals and use the best technology to ensure that all of our patients receive excellent care. We are members of the American Dental Association and adhere to the same high standards as our American and Canadian counterparts. The only difference that you will find is that our dental implant costs are cheaper due to Mexican legislation, allowing you to spend a fraction of what you would have paid in other countries. For future bookings, please contact us right away.
Implant Procedures
| | | | | | | | | |
| --- | --- | --- | --- | --- | --- | --- | --- | --- |
| Dental Implant | $850 | | | | | | | |
| Implant Crown + Abutment | $495 | | | | | | | |
| Sinus Lift | $700-$1000 | | | | | | | |
| Bone Graft | $400-600 | | | | | | | |
| Snap On Denture (2 Implants) | $3,250 | | | | | | | |
| Snap On Denture (3 Implants) | $3,999 | | | | | | | |
| All on 4 treatment | $8,900 | | | | | | | |
| All on 6 treatment | $11,100 | | | | | | | |
| All on 8 treatment | $13,300 | | | | | | | |
CONTACT US FOR A FREE QUOTE​
Please note that this is not an actual appointment, but a request for one.
We will contact you for a confirmation shortly after. Thank you!